Onzepensioenregeling.nl is unique in the market
A good pension plan. It is an important employment condition for employees. And for employers it is something with which they can distinguish themselves on the labor market. Employers are obliged to properly inform employees about their pension scheme.
But how do you make a complex and abstract subject such as pension understandable? How do you explain what someone is going to receive in 10, 20 or 30 years, while there are still so many uncertain factors?
The answer is Onzepensioenregeling.nl.
For employers
For current employees
But also for potential employees who want to know how the pension is arranged with the new employer
It is explained in understandable language what the impact of certain life events is on the specific pension scheme. Such as getting married, having children, divorcing, disability, a new job, death, and of course retiring.
The pension planner is unique. This gives employees a complete picture of what life can look like after retirement. In this tool all relevant future income data is combined into one clear overview. So the AOW and the current pension scheme, but also those of previous employers.
The pension planner also shows what happens to the income if, for example, the employee wants to retire earlier or wants the pension to be paid out flexibly. Even future economic developments are already taken into account. This makes it clear what the expected income is in bad weather, in expected weather and in good weather.
Simply clear to everyone.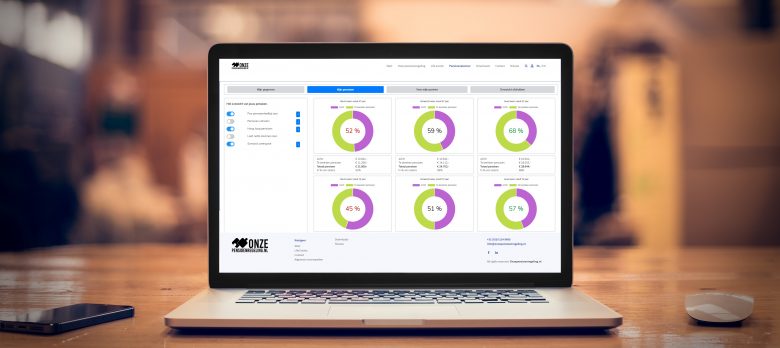 Whitelabel for the intermediary
Onzepensioenregeling.nl is available for the intermediary as a whitelabel. This means that the intermediary can offer the complete tool to its relations so that they can benefit from all the advantages that the tool offers.
With a whitelabel Onzepensioenregeling.nl can be equipped with its own look and feel. This creates a familiar image and provides extra binding with the employer and employee.
Curious about the possibilities?